Meet the East 53rd St Chiropractic and Wellness Team
---
Akie Kido | Physical Therapist (DPT)
Akie is a New York State licensed Physical Therapist, who earned her Bachelor of Science in Integrative Physiology at University of Colorado and Doctor of Physical Therapy at Sage Graduate School. Akie has clinical experience in a variety of settings, including outpatient clinic, inpatient hospital and geriatric population. She enjoys designing individual plans to help patients localize and decrease pain, to achieve optimal level of function. Akie is a member of the American Physical Therapy Association (APTA) and is fluent in both Japanese and English.
---
Shelly Wu | Physical Therapist (MSPT)・Pilates Instructor
Shelly is a dedicated and caring physical therapist based in New York, NY. She earned master's degree from University of Pittsburgh and a bachelor's degree from National Yang-Ming University of Taiwan. Shelly is fluent in English, Mandarin and Taiwanese. After graduating from University of Pittsburgh, Shelly worked in outpatient orthopedic setting for about 3 years before she started working in New York. She has a lot of experience in orthopedic physical therapy and sports medicine, especially with cases after ACLR and rotator cuff reconstruction surgery. She also worked with athletes of different sports, such as baseball, badminton, volleyball and golf. Shelly specializes in orthopedic/musculoskeletal physical therapy, joint mobilization/manipulation, soft tissue mobilization and release, taping (Kinesio and sports) and exercise prescriptions. Despite techniques mentioned above, she also utilizes Proprioceptive Neuromuscular Facilitation (PNF) technique, basic breathing and core muscle facilitation to promote better muscle activation, postural correction and to increase performance or quality of life.
---
Yui Matsubara
New York Yoga & Pilates Instructor
I was born in Japan and started to dance in my mother's studio at the tender age of three. In 2003, I moved to San Francisco to study classical Ballet and Modern dance. I experienced many performances under the direction of Karen Morrel and also worked with many choreographers. In 2005, I moved to New York and studied at the Ailey School where I had the opportunity to dance with diverse group of choreographers and received Certificate of Dance in 2008. I also teach Ballet and Modern Dance in both New York and Japan throughout all the ages to share the joy of dancing. As I moved on as a dancer, I fell in love with Yoga and Pilates. It has had such an amazing influence on my life.
I completed my 200 hours teacher training at Yoga Works and received my Pilates Certificate from Pilates Academy International. My class includes breathing, alignment, movement and stretching. I utilize my knowledge and experience of dancing in the class to move body and mind. I am deeply passionate about teaching how to control your body and mind through Yoga and Pilates.
---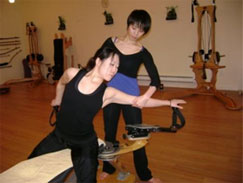 GYROTONIC EXPANSION SYSTEM®
The GYROTONIC EXPANSION SYSTEM® is an exercise modality that guides users to simultaneously stretch and strengthen muscles and tendons while also articulating and mobilizing the joints. Corresponding breathing patterns are engaged during the performance of the exercises, thereby increasing coordination, endurance and aerobic activity.
Juliu Horvath discovered the GYROTONIC® and GYROKINESIS® principles that form the foundation for this novel approach to maintaining health and well-being after many years of study, as he not only tried and succeeded in repairing the bodily injuries that he sustained as a professional dancer using these new methodologies, but he also sought to create a system of exercises that anyone could perform, regardless of age or state of health.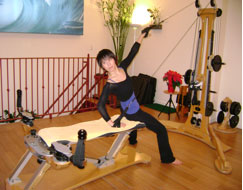 GYROTONIC® methodology allows users to stretch and strengthen muscles, while simultaneously stimulating and strengthening connective tissues in and around the joints of the body. These exercises are
synchronized with corresponding breathing patterns, thus enhancing aerobic and cardiovascular stimulation and promoting neuro-muscular rejuvenation.
GYROTONIC® exercises offer complete freedom of movement. Exercises are performed on the Professional Pulley Tower, and the system is fully adjustable and can meet the needs of many people with varying body types and levels of strength.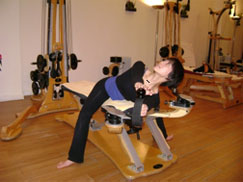 The even and constant resistance in the handle unit and pulley tower,(through the triple reduction in the pulleys), completely eliminates the jarring that takes place at the beginning and end of exercises performed on conventional exercise equipment, when many injuries occur. The circular, spiraling and undulating movements that characterize the GYROTONIC EXPANSION SYSTEM® help to increase the functional capacity of the spine, contributing to a spherical and three-dimensional awareness, resulting in increased equilibrium.
---
Call now to schedule an appointment!